Apparently all my other clothes are in the wash. I had nothing to wear but my grumpy pants today. Which is all the more reason why it's so important to do this list.
Crayl
has started up her gratitude lists in alphabetical order again. Being a little slow on the uptake, per usual, I missed the letter A. But I'm determined to pick up speed and jump in with B. In no particular order:
A BREAK in the rain. The mildewy smell is out of the house, the yard looks less and less like a swamp, and the roads have dried up so everyone is back to driving like their hair's on fire.
Memphis Style BARBEQUE Spice by Blazing Blends. It is the best seasoning I've ever tasted and it's sold at the Dollar Tree! I buy at least five containers when I stock up.
BUBBLE gum. I've always loved it. I love all the flavors that make most adults cringe, too. Cotton candy is my favorite, watermelon, grape. Mmmm… my mouth is starting to water.
The color BLUE. My absolute favorite color. My favorite shade of it is periwinkle.
BEGINNINGS. I love the idea of starting something new. The anticipation of it all is the best part.
BLOOPERS. My favorite parts of movie and TV shows. I especially like Jackie Chan's outtakes. He is so funny, and watching him perform stunts until he gets them right is incredible.
BREATH. It's such a precious commodity.
The movie BRAVEHEART. One of my favorites, even though it's really violent. My dad's family is Scottish, so maybe I just feel a special kinship with the highlanders.
Being BAREFOOT.
"BLUE," our American Pit BULL terrier. Best dog ever.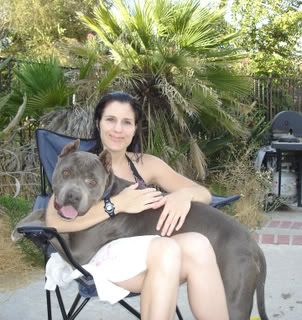 For more Beautiful B lists, head over to Crayl's blog,
Beyond Black and White
.
(image source for letter B)