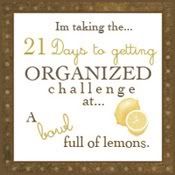 I'll admit it, I was able to get off a bit easy on this second challenge, which was to clear off our desk top.
Mine wasn't too bad
only
because I had just had to clear it off a little while ago to put another computer on it and make room for the printer. That is the
only
reason it doesn't have 27 piles of paper on it, along with coffee cups, crumbs, and all manner of flotsam and jetsam. (Okay, there were a few crumbs...)
Here's the before:
There was a small pile of papers including an old grocery shopping list, a couple of pieces of junk mail, and a notebook that I hadn't used in quite a while but was hanging around anyway. There was also a branch I had used for fall decor, some ribbon I had thought about using to hang the Christmas cards, and some index cards that had the boys' chores written on them.
I threw the papers away, put the notebook with the rest of it's brothers and sisters in a drawer, and put the other stuff on my crafting shelves. (Okay, if those are next I'm gonna need about 5 hours to declutter them.)
And the after:
(I still have to take down the Christmas cards. But since they weren't technically on the desktop, I'm safe for now.)
The nice thing is that the computer and printer take up enough room that I can't fit too much other crap else on the desk. As an added bonus, even though I hate the bad connection that the wireless mouse and keyboard have, it's great to have so few wires! And I can just stick them on top of the printer when I need more writing space.
On to the next challenge!