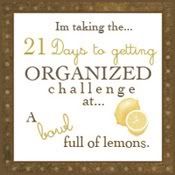 Today's challenge at a bowl full of lemons is toy organization.

Hrmmm....

There do exist toys in this household but the idea of chasing and wrangling teenagers, hog tying them and then forcing them to help me organize their crap is beyond my capabilities right now. I need either extra reinforcements or serious cash for bribing, and since I don't have either, I'm not gonna touch that with a ten foot pole for now.
Or maybe ever.
My current solution is to make them put stuff in their rooms or the Man Cave. At least it's not everywhere.
At least not all the time.
Toni suggested an alternate to toys which was a hobby area to organize.
Yuck. I can't even blame the teenagers for this one. There are a few craft piles hidden around the house, but I decided to start with this one, as it's the one I go to most.
Extra fabric hidden in baskets beneath the coffee table.
I took everything out and realized that I don't even use half of this stuff. The donation truck for the Vets is coming tomorrow, so I donated a lot of the fabric, ribbon, and scrapbooking stuff.
I basically got myself down to one shelf, after putting things like the glass jars away in other places. I mostly just have staples like glue and crochet hooks now. And some spray paint.
For some reason I have about 50 frames that been crammed on the top shelf with the rest of the crap. I organized them, but looking at this picture makes me realize that I will never need that many frames, as I don't have a ton of pictures around the house. I guess I'm just not the picture type. Some of those will be donated, too.
That is the nice thing about this challenge; you see the stuff that you've been hanging on to for years but is just taking up space. As much as I love crafting, I just don't have a whole lot of time to devote to it. I'll probably weed some more of this stuff out and just keep the things that I know I'll use. (I think I'm pretty crocheted out right now, so some of the hooks will be going to someone who will love them deeply.)