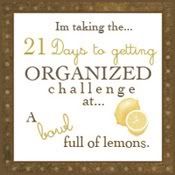 *
EDITED
* to add that I'm also linking up to
Beneath My Heart
's
Closet Linky Party
. Everyone's got the organizing bug right now, and these linky parties help keep me accountable!
I ended up doing this on the same day as the Tupperware cupboard, and it made for a bit of a long evening, but it was definitely worth it!
Most of the time I don't go in the linen closet because it's such a mess. I just end up throwing odds and ends in there and shutting the door.
Here's the full horror:

Top shelf:


Bottom shelf:

I took everything out, with Zoe inspecting, as usual:


I also took off more of that hundred-year-old contact paper:
I completely forgot to take a picture of all the crap I took out of there, probably because it was getting late and I knew I had a lot of work ahead of me. There were mismatched sheets, old toiletries, blankets, pillows, bags, random hand towels, about 20 colors of nail polish, a sewing box, cleaning supplies, a Christmas stocking, fabric, an old flag that we haven't properly disposed of yet, and about 18 placemats that we never use.

I was able to weed out most of the stuff in there, and the mismatched sheets, placemats, Christmas stocking and all kinds of unused toiletries are all getting donated. Some of the other toiletries went straight in the trash. I was able to get rid of so much!
What ended up going back in the closet was this:
On the top half, I put a comforter (whose plastic container broke so I have it in a garbage bag right now), and the remaining matching sheet sets, which I put in their matching pillowcases so I can grab them out easily. The last shelf there has a container of small hand towels, the sewing kit, soap for refills, and Febreze.
On the bottom half of the closet:

The top shelf has a small container in back for travel necessities, a container for first aid products, and a container of extra toiletries.
The middle shelf has blankets, and the last shelf only has containers filled with the extra plastic bags that sheets and draperies come in. I'm going to try and use these around the house to sort and contain other stuff that would otherwise be rolling around looking cluttery. I told myself, though, that if I can't find a good use for them, I will throw them away. I hold on to bags, containers, boxes, etc., for too long without ever using them,and they end up being clutter themselves! This way, once I've either used the bags or thrown them away, I'll have another whole shelf to use.
In case you're wondering why there aren't any towels in there, I have to keep our towels in my own closet. Otherwise the boys would use EVERY SINGLE ONE in a three-day-period.
It was so nice to finally get rid of all that junk in there! Took me a while, but so worth it!