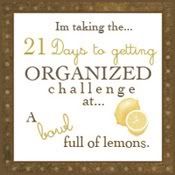 Alright. I'm jumping on the bandwagon. Usually I am a complete failure at resolutions, but I think the challenge at
A Bowl Full of Lemons
might actually be the kick in the butt I need.
If I do fail, Toni, don't feel bad. It's not you, it's me.
Where was I?
Oh yeah, resolutions and such. Toni, an organizing genius from what I can tell, is having a
21-Day Organizing Challenge
starting tomorrow that will offer help to those of us who are genetically deficient of the organizing components in our DNA. [While you're at it, Toni, would you mind creating an organizing supplement that we can take daily with our oatmeal? Thanks.]
Just looking at her site is inspiring (check out her posts on
clearing e-mail clutter
and her
mobile command center
). The fact that the challenge is broken down into small tasks each day makes even my feeble little mind believe that it can last to the finish line.
So, deep breath, I'm taking the plunge. I'll let you know how it's going. A warning, though, it might get bloody messy.