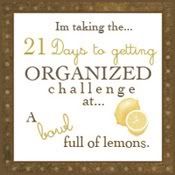 I combined these two since I had already organized most of our medicine previously and I had only a little bit of cleanup in the medicine cabinet. Kill two birds with one stone and all.
We have three medicine cabinets in the house, and I just organized the boys' a little while ago. Ours in the master bathroom just needed wiping down, so I did that and then tackled the one in the downstairs bathroom:
I just straightened up everything else, making sure the labels were turned towards the front so the boys know what everything is for, and corralled loose nail clippers and scissors.
The everyday stuff like lactose pills, pain relievers, and vitamins we keep in one of the kitchen cupboards. (All of these we take with food, so it only makes sense). I had just recently thrown out all the old boxes and put stuff in a basket that's easy to pull down and sort through:
I write the "name brand" on certain things for the boys because Tylenol
®
is much easier to read/pronounce/remember than acetaminophen.
I was happy to be able to knock out two challenges in one shot!