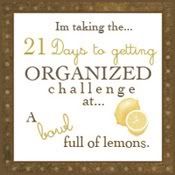 Today the challenge is actually over and I'm only on Day #14. (Well, I actually finished Day #15 and 16, and I'm part way through 17, but I'm slow with posting.)
It's not that I've lost steam, it's just that many of the remaining challenges take more than just an hour to complete (which is pretty much the only amount of free time I have each weekday).
I am going to try and complete them by January 31st, though. That's the official catch-up date.
So.
There are three bathrooms to choose from, but the master bathroom was by far the worst, so I tackled that.
Left side:

The usual crap.
Right side:
The garbage bag is left over from when Ralph broke his leg and had to tape up his cast every time he got in the shower.
I didn't realize I fit that much crap under there.
Notice the handy dandy coat hanger that we use for getting my insane amount of hair out of the drain.
I purged a bunch of stuff and found some containers I had around the house to corral the leftover
crap
necessities.
So far so good. And since I've purged a lot of cleaners, etc., from under the kitchen sink and other places, I don't think we'll see them creep into this one.
Unless they've been breeding and I didn't eradicate the babies.